EBuLa - The on-board electronic timetable
The EBuLa on-board devices from Gersys have been developed and released in accordance with the Deutsche Bahn specification V1.5. The devices are available both in a fixed desk mounting and for portable use situations.
The on-board display units BC7900, BC7902 (with integrated GSM-R modem), BC7904 (with integrated GSM-R modem and integrated GPS module), BC7906 (with GPS module) and BC7908 (with LAN for MIPs) have been developed for use in rail vehicles – and in particular for the DB application EBuLa (electronic timetable and low-speed point system). The new high-performance Intel® processor and the short boot time at start-up make for user-friendly operation as well as short turnaround times. IT security is provided by the Windows 10 operating system in addition to other factors. As the unit is largely maintenance free, there is no longer any need for a fold-down front panel. The BC7 also has two covered USB charging sockets on the front panel of the device.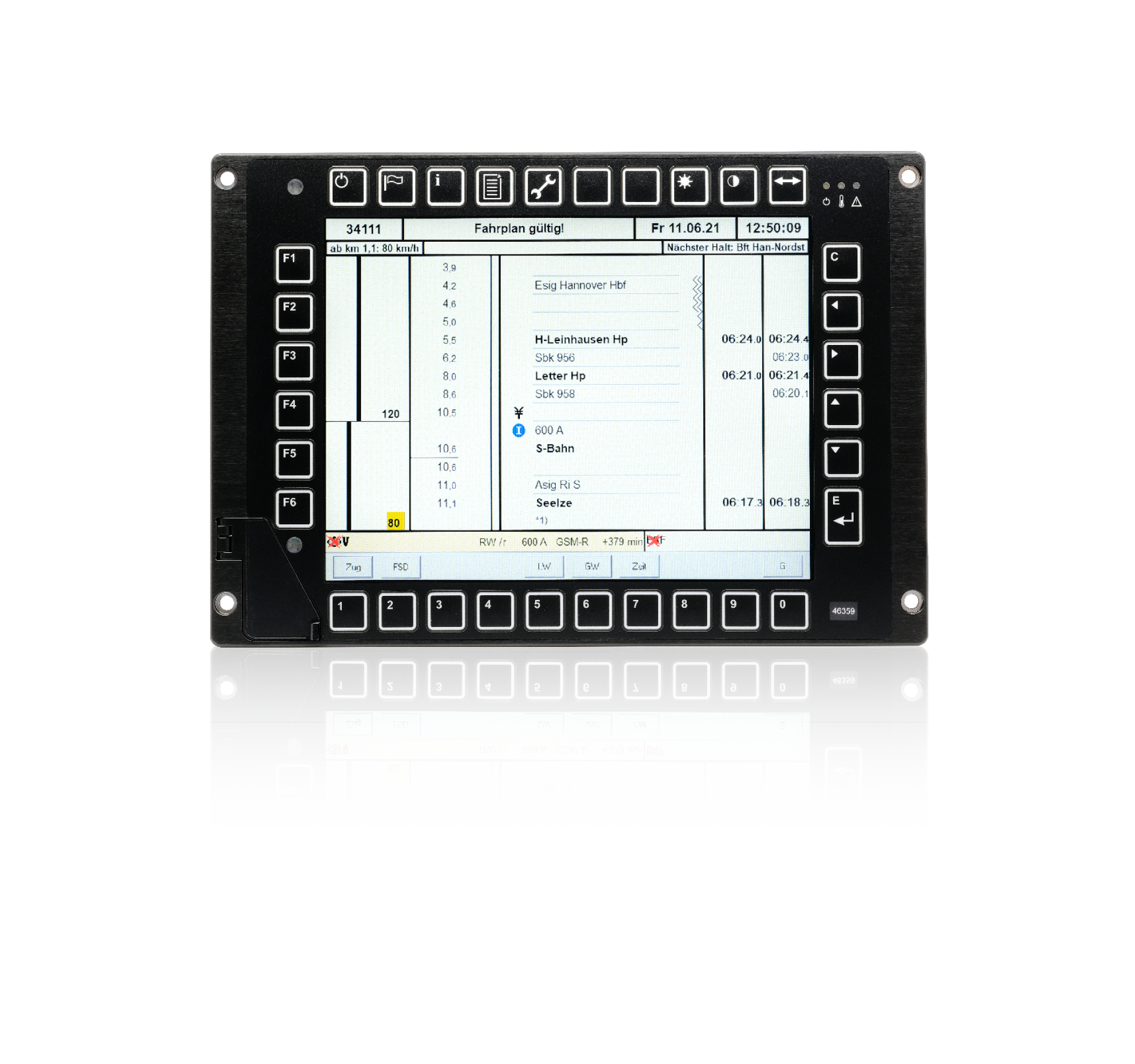 For mobile devices such as smartphones or tablets, a single charge often is not sufficient to last through the whole working day. In older vehicles, there is usually no power socket available for a corresponding charger or it is being used for other purposes. To give train drivers the possibility to charge their mobile devices despite this limitation, we offer a retrofit kit for our EBuLa units of the BC43 and BC44 series. The integration of the charging socket into the existing on-board device can be done simply and economically by an electronics workshop or by Gersys as the manufacturer of the devices. A big advantage in this approach is that no new vehicle wiring or any other modifications are required in the driver's cab. The on-board display units BC43xx and BC44xx can each be retrofitted with two USB charging sockets, which are protected against dirt and soiling by a tightly closing flap.
Driver Assistance Display
FASSI BC7433
On the basis of our new modular BC7 display family, we have developed the driver assistance system FASSI for DB Systel, the digital partner of Deutsche Bahn. It is a display device that can handle all of the DB Systel specifications and requirements. With a high-quality IPS TFT display that provides outstanding readability both in landscape and portrait modes, a processor with guaranteed long-term availability and an embedded operating system, the terminal serves as the hardware basis for DB Systel's FASSI system. Operation via a vandal-proof PCAP touch screen (in laminated glass technology) also enables the use of apps through its multi-touch capability. And thanks to the integrated GPS and LTE modules, it is possible to make use of current and future applications for driver assistance systems.